(In photo, Ken Liang, Director for Device Ecosystem Development and Operations in HUAWEI, addressed the 2,000 strong Plenary of the IMMAP DigiCon 2023: DIGIMAX Day 2 discussing how Petal Ads is helping shape and disrupt the new mobile marketing landscape via connecting the global HUAWEI community.)
Petal Ads, a leading provider of mobile advertising solutions, participated in the recent IMMAP DigiCon 2023: DIGIMAX Summit, one of the largest gatherings for the local digital marketing industry in the Philippines. It was held last October 18 to 20, at the Marriot Grand Ballroom in Pasay City.
Petal Ads is revolutionizing the mobile advertising landscape with its comprehensive suite of services as a one-stop solution for mobile advertising platforms. Petal Ads offers a range of features and tools that enable businesses to reach their target audience within HUAWEI device users effectively and efficiently.
The theme for Petal Ads at the IMMAP DigiCon 2023: DIGIMAX is "Connecting the Global Community Through Mobile Ads – Bridging Borders with Petal Ads." With the objective to connect the global community through mobile ads by focusing on four key areas of connectivity.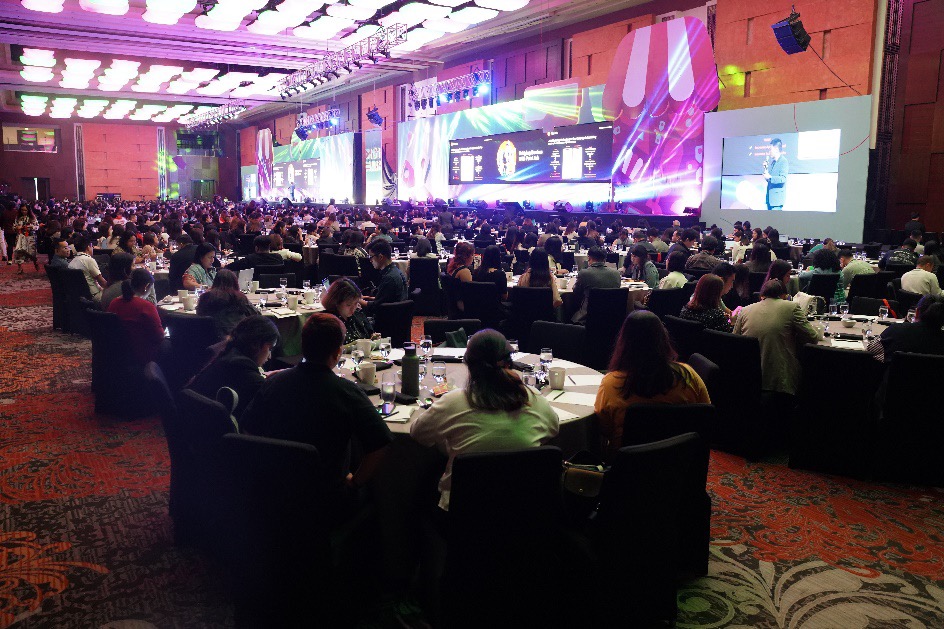 PHOTO: Participants of the Day 2 "Community and Commerce" Tracks listen in thought leadership from key speakers for the DIGIMAX event.
The first area of connectivity is "Connecting the Devices" through cross-device linking. Petal Ads allows seamless integration across various devices, from phones to tablets, explorers to desktop assistants, and small screens to TV screens.
The second area of connectivity is "Connecting the Ads." Petal Ads offers a diverse range of advertising formats, including splash screen ads, push messages, app promotions, and video ads. This enables businesses to engage their audience with captivating and interactive content.
The third area of connectivity is "Connecting the Partners." Petal Ads believes in the power of collaboration and aims to bring together partners from different industries. By leveraging the expertise and advantages of various industries, Petal Ads creates a larger force that can deliver exceptional results for its clients and helping hit its key KPIs and goals.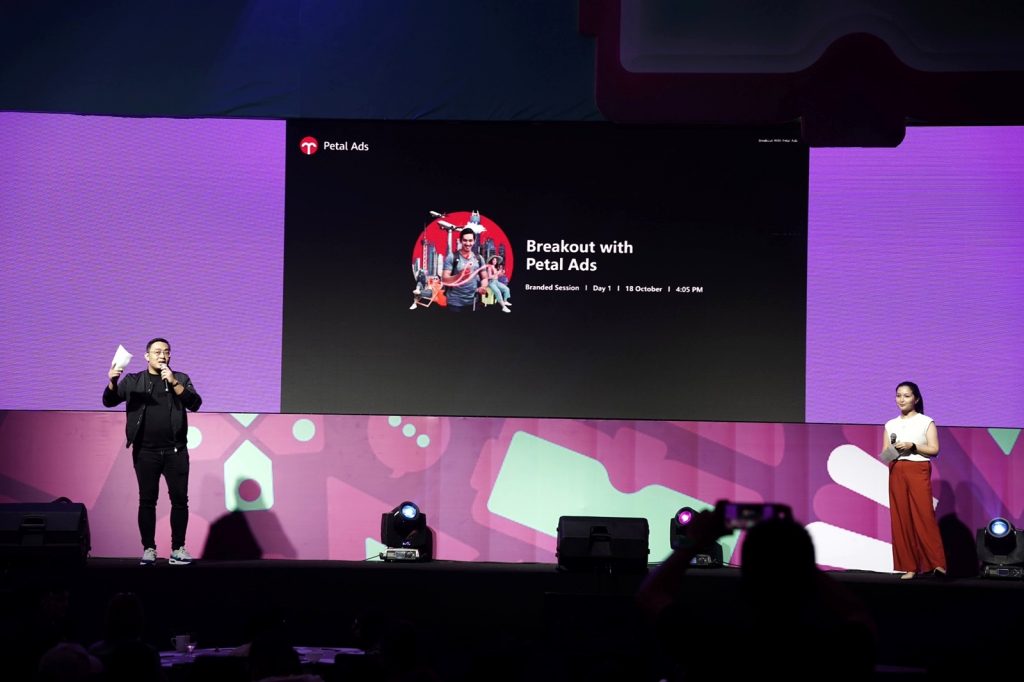 Migs Berbano, Head of Petal Ads Philippines, and Cocoh Lacerna, Ad Operations Lead, help address the audience during a Breakout Branded Segment of the event's Day 1 festivities.
The fourth area of connectivity is "Connecting the Border." Petal Ads aims to connect and channel resources, industries, and audiences from different countries to create a larger cross-border platform. This initiative opens up new business opportunities and enables businesses to expand their reach globally.
"We are thrilled to be a part of the IMMAP DigiCon 2023: DIGIMAX event and showcase our innovative mobile advertising solutions," says Ken Liang, IMMAP Plenary speaker and currently the Director of Device Ecosystem and Operations. He is also one of the key leads for Petal Ads as a HUAWEI platfom in the Philippines and the APAC region. "With Petal Ads, businesses can bridge borders and connect with their audience in a meaningful way. We look forward to demonstrating how our platform can drive engagement, increase brand visibility, and generate results for our clients."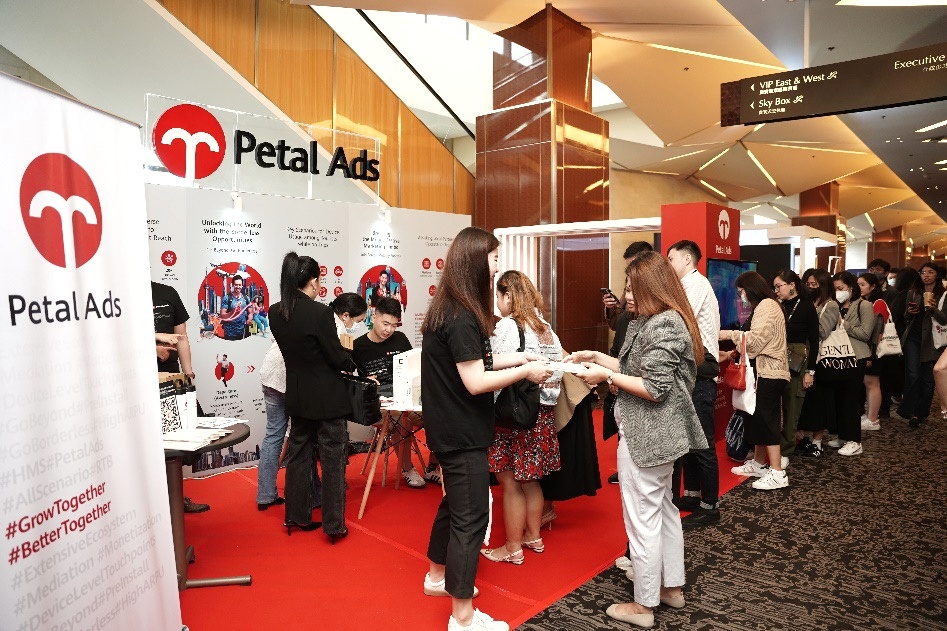 Participants queue and sign up for the ad account creation at the Petal Ads Booth
One of the key highlights for Petal Ads was providing an interactive booth where participants could sign up for a free Petal Ads account and self-serve ads, and help further discuss client marketing needs. The booth introduced the best features of the platform and the market potential for its advertisers.
"Petal Ads offers key solutions to our clients through precision targeting across highly-engaged HUAWEI users on a local and regional scale with over 730 million monthly active users globally," says Migs Berbano, Head of Petal Ads for the Philippines. "In China alone, we have over 550 million active users already, and we intend to leverage on this massive market and bring our local and regional partners beyond the borders especially for those in the travel industry. As the borders open up and we expect more than 1.5 million Chinese visitors yearly very soon, we can definitely work with partners to create joint marketing campaigns to help their brands reach out to this massive audience.
"What separates us from most platforms is our regional reach not just on the app-level but more importantly utilizing our device-level data to help send relevant brand messages from our partners," he adds. "We encourage those who are trying to refresh their marketing mix and experimenting with new platforms to go beyond the confines of their usual ad strategies."
The event also highlighted the key rebranding of IMMAP into now officially, DMAP (Digital Marketing Association of the Philippines). Founded in 2007, the prestigious organization is home to numerous companies and individual members from the digital marketing industry.