(Photo shows: Tech startup Farmvocacy was awarded the grand prize of 1 million pesos at the Shell LiveWIRE 2023 Final Pitch Day on October 12. Founded in 2019, Farmvocacy develops innovative solutions for rice farmers.)
The Philippines is home to a vibrant startup scene, with new businesses emerging every day.
Shell LiveWIRE supports the continuous growth in the local business landscape by strengthening the country's economy, by promoting entrepreneurship, innovation, and meaningful employment.
"At its very core, Shell LiveWIRE remains committed in its vision of promoting local growth by empowering individuals and communities. This is why it remains our flagship development program," said Serge Bernal, Vice President for Corporate Relations at Shell Pilipinas Corporation.
For this year, Shell LiveWIRE once again recognized tech startups and community enterprises during the Final Pitch Day last October 12 in Makati City, with the tech startup "Farmvocacy", winning a funding grant worth 1 million pesos.
Present during the Final Pitch Day is DTI Undersecretary for the Competitiveness and Innovation Group, Rafelita Aldaba, Ph.D., who applauded the works of the startups and community enterprises, "Today's presentations showcase a dedication to sustainability, covering a wide range of innovations from industries like transportation and innovations for climate and smart agriculture – leading us on into our future without limits." She adds, "Let's all rally behind innovation that really inspires.

(In photo from left, John Andrew Gangat of Lycan, Elanor Olegario of Lithos, and Vincent Roy Mendoza of Farmvocacy present their startups to the judges during the Final Pitch Day of Shell LiveWIRE 2023.)
"Since it launched in 2020, Shell LiveWIRE has helped 42 innovators and business owners through the Acceleration Program. 12 of these enterprises have entered the Shell Pilipinas Corporation's supply chain. By equipping tech startups and community enterprises, this has led to creating more than 500 local jobs for Filipinos.
Farmvocacy: Empowering Farmers for a Sustainable FutureFarmvocacy, a Mindoro Island-based social climate fintech startup running a circular inclusive business model to support climate-smart rice farming, environment-friendly, and high-yielding farming system, bagged one million pesos after impressing the judges during the Final Pitch Day.
Vincent Roy Mendoza, the CEO of Farmvocacy, shares how their advocacy of ensuring a sustainable future has been empowered by Shell LiveWIRE, "Shell LiveWIRE became a validation that what you're thinking and what you're trying to innovate can actually contribute to creating better lives for us and specifically more to the future generations.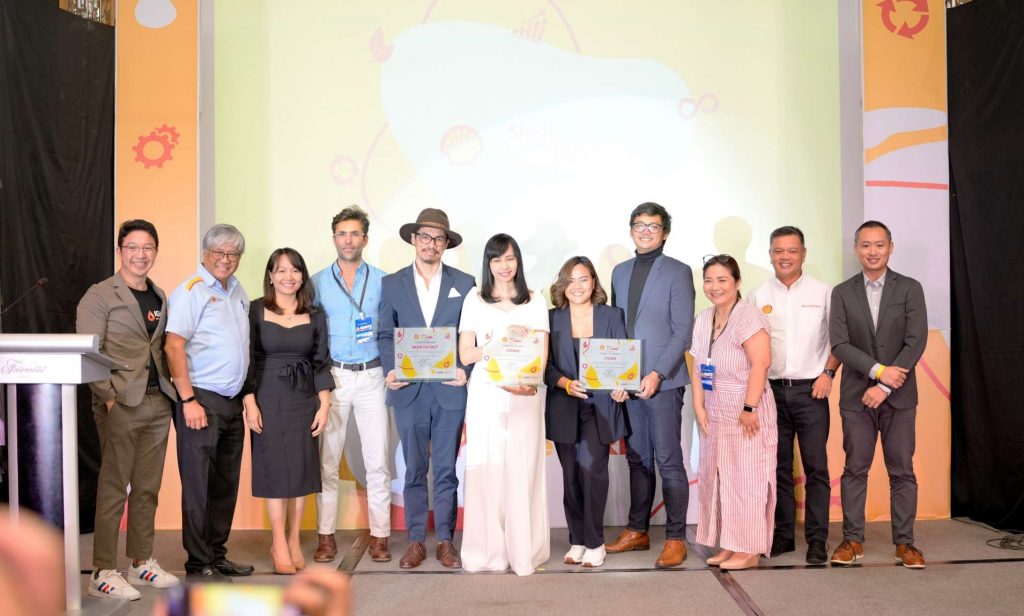 (Empowering Filipino innovators to make a difference, Shell LiveWIRE 2023 culminates its training and mentoring programs this year during the Final Pitch Day last October 12.)
"Tech startups are at the forefront of innovation, developing new products and services that can help to improve the lives of Filipinos. By providing them with support, this can help to drive innovation and boost the competitiveness of the Philippine economy.
The other two finalists include LITHOS Manufacturing OPC, a producer, trader of industrial and feed-grade minerals, such as calcium carbonate, zeolite, and bentonite, and Lycan Motorcycles, a Filipino motorcycle and technology startup that is developing two-wheeled electric motorcycles and smart products.
Promoting Entrepreneurship, Innovation, and Meaningful Employment
Banking on the goals of empowering communities, six community enterprises who became part of the Acceleration Program were also recognized during the Final Pitch Day. The community enterprises selected this year for their work to strengthen local economies by promoting entrepreneurship, innovation, and meaningful employment are Samahang Mangingisda ng Dalupaon (SAMADA), a group of fisherfolk who ventured into an agri-enterprise, related to fish processing; Tagbilaran Young Workers Association, a local organization that produces bags and other souvenir items from upcycled plastic waste; PHILIA Variety Store, a direct market conduit for smallholder community farmers of coffee, cacao, coconut, and other agricultural products; DLR Foods Supply Trading, a company that provides ready-to-eat meals in halal-certified retort pouches; Odicon Small Coconut Farmers' Organization (OSCFO), an agricultural enterprise that specializes in the sustainable processing of coconut byproducts; and Agri-VINO Enterprises, a chicken poultry business that provides egg incubation service to the community, reducing travel costs for fellow growers.
All of the community enterprises who became part of the Acceleration Program received a 100,000 pesos funding grant.
Collaborating with Enterprises for National Success
One of the judges during the Final Pitch Day and Pilipinas Shell Foundation Inc.'s Executive Director, Sebastian Quiniones Jr. posed a challenge to the innovators of this year's Shell LiveWIRE, "Try to find out ways where you can collaborate with all of these enterprises that we have been putting forward so that we can all succeed as a nation."
Among those who joined Quiniones in judging the Final Pitch Day were Geraldine Samson, Real Estate Facilities Manager of SPC, Rui Bom, a resident mentor of 500 Startups, Emmy Lou Versoza-Delfin, Director for ICT Development Bureau of the Department of Information and Communication Technology (DICT), and Liezl Sueño, Senior Technology Transfer Officer of Department of Science and Technology (DOST).
To know more about Shell LiveWIRE, visit https://www.shell.com.ph/energy-and-innovation/make-the-future/shell-livewire-philippines.html