Around 54% of Filipinos still rely on traditional cooking fuels such as charcoal and fuelwood, which produce high levels of air pollutants that have serious health and environmental consequences. Meanwhile, increasing commodity prices have also prompted malicious sources to sell unregulated alternatives to LPG products or substandard LPG products that may be cheaper but are at risk of causing massive fires and explosions.
To expand Filipinos' access to safe and quality kitchen fuel through flexible payment options, trusted LPG brand Solane has partnered with leading finance superapp GCash, enabling Solane LPG users to pay for their liquefied petroleum gas tanks and refill using their GCash wallet.
"Solane shares a common worthwhile goal with GCash, which is the goal of economic inclusion. As brands, we share the goal of seeing every Filipino benefit from economic progress by living dignified everyday lives," said Banjo Castillo, Chief Operating Officer, Isla Petroleum & Gas Corporation.
Under the landmark partnership, Solane LPG users may now pay using their GCash wallet at select distributor and retail partners through GCash Scan-to-Pay facilities or select GCash as payment method when placing orders through the Solane LPG app or the Solane web portal.
Credit options for LPG users
Eligible GCash users may also pay for their Solane LPG products using GCredit, GCash's credit line powered by CIMB Bank, and GGives, its buy-now, pay-later installment option, enabling them to purchase their LPG refill even without available cash onhand or when budget is tight.
"When we say financial inclusion, we immediately think about savings or having access to loans but in fact, it's just one aspect. A more practical side of financial inclusion is financing for better everyday life," said Oscar 'Renren' Reyes, President and CEO, G-Xchange Inc. (GCash). "Now, customers can access better, cleaner, safer cooking or heating alternatives with the proper finance partner because now they can pay through GCredit and GGives."
On top of enhancing customer experience for existing Solane LPG users by providing them with options for cashless payment, Solane LPG sees the partnership as a way of expanding its market further. GCash has over 80 million registered users, 85% of which come from C2DE or lower socioeconomic classes, and 70% which are based outside Metro Manila.
"Our partnership with GCash is largely hinged on affordability. Majority of the Filipinos in the CD, and even E, markets are those who are cooking with wood and are compromising their safety and health simply because they don't have enough cash outlay, and we hope that this partnership will provide them with an affordable option," added Castillo.
With the availability of GCash scan-to-pay facilities, Solane LPG also sees the partnership as a driver for its nationwide distribution system, which consists of more than 80 distributors and approximately 11,000 points of sale located in different parts of the Philippines.
"We envision this partnership to expand our large customer base, given that GCash is at the forefront of digital payment technology," said Tonito Gonzalez, CEO of Isla LPG Corporation. "This will also enable our outlets to reach a certain portion of the market that in the past was not available to them."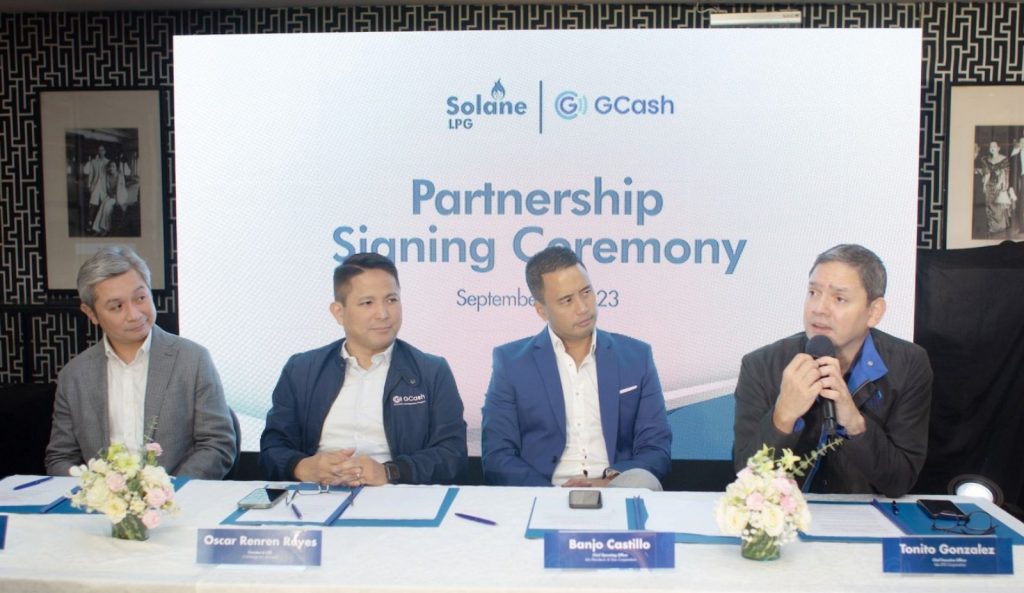 Innovation and partnership for clean cooking fuel
The partnership with GCash serves as the latest move by the LPG brand to introduce innovations and expand its partnership with different industries to serve its domestic market.
Solane previously introduced the Hatid Bahay delivery system through the Solane Web ordering platform and the Solane LPG app to provide convenient delivery options. It also introduced the 7-Point Safety Check, an exclusive and free-of-charge service conducted by well-trained riders to help customers properly install their LPG cylinders.
"Partnership is the lifeblood of progress. It amplifies our strengths, unites our resources, and brings our shared mission together," Castillo underscored. "If you find people or groups with like-minded missions, it's paramount to work together for the common good. Our mission is to provide peace of mind with every LPG product that we sell, and every partner that can help us towards that mission is surely a welcome one."