(In photo: More than 2,000 motorcycle taxi professionals staged a protest at the Liwasang Bonifacio against the proposed exclusion of MOVE IT from the MC Taxi pilot study.)
By Alithea De Jesus
There is no denying that must transportation has been a big issue that has not a burden to more than 70% of the population living in Metro Manila as well as in Mega Manila. The absence of integrated public transport system to the Philippines contributed to the woes of the riding public and the risk of losing job due to tardiness caused by the lack of efficient public transportation in the country.
Needless to say, despite the recently upgrades of metro train the mobility of the commuters mostly daily wage earners has not been resolved given the volume of the daily passengers of roughly around 11 million passenger way back in October 2021 report of Dr. Cresencio Montalbo Jr. who is part of the University of the Philippines' School of Urban and Regional Planning. These are just jeepney and bus riders.
The advent of motorcycle taxi has provided not just comfort, efficient and reliable mobility but also an alternative mobility solution to their daily woes of the commuters who cannot afford to take TNVS or regular taxi due to the exorbitant fare amid regulated fare tariff.
The recent proposal of a lawmaker to potentially axe MOVE IT from the MC Taxi pilot study has sent chilling shockwaves, hinting at a deeper crisis within the MC Taxi sector. Industry watchdogs, riders, and passengers are raising their voices against what is being branded as a "monopoly of mediocrity," with allegations flying that political muscle is being flexed to sideline competition and preserve a status quo of declining service quality from other MC Taxi players.
The House Committee on Metro Manila Development has recently proposed the exclusion of MOVE IT from the pilot study on MC taxi services, a decision with potentially far-reaching consequences that could impact the livelihoods of thousands and the commuting experience of Filipino commuters, particularly as the holiday season approaches.
In a display of unity, 2,000 motorcycle taxi professionals from MOVE IT gathered to defend their livelihoods. The moving chant of "MOVE IT, HUWAG IPASARA" resounded through the Liwasang Bonifacio in Manila, with rider leaders stepping forward to voice their collective concerns regarding the call to halt the operations of MOVE IT. "Paano po ang mga pamilya namin? Paano po iyong mga taong umaasa sa amin na makapag-uwi ng pang-gastos sa araw-araw? Sana po alalahanin ng mga opisyal natin sa gobyerno na kalakip ng kagustuhan nilang patigilin ang operasyon ng MOVE IT ay ang pagpapatigil nila sa kabuhayan ng libo-libong rider," notes Kuya Butch, a rider leader who has been with MOVE IT since its launch in 2018. MOVE IT currently has 6,500 riders in Metro Manila, with the majority serving as the primary providers for their families.
The Irony of Penalizing Compliance and Service Excellece
Despite a clear track record of adherence to regulations, evidenced by approvals from both the Philippine Competition Commission (PCC) and the Department of Transportation (DOTr), Grab Philippines and MOVE IT find themselves in the crosshairs of an unexpected controversy. Where compliance and operational excellence are usually celebrated, here they are being questioned on long-gone issues, sparking debates on the real motives behind these allegations.
Kuya Romeo, one of the pioneering riders of MOVE IT, shares that banning MOVE IT from the pilot study will put riders and commuters on the losing end as they would have fewer reliable options available.
"Kahit sino pong pasahero ang tanungin ninyo, kalimitang dahilan kung bakit sila nagmo-MOVE IT ay ang bilis at maasahang app, paniguradong ligtas na biyahe, at ang murang pamasahe. Ngayon, kung ipapatigil nila ang operasyon ng MOVE IT, sino ang talo? Hindi naman ang mga opisyales ng gobyerno, kung hindi ang bawat komyuter na umaasa sa MOVE IT para sa ligtas at maasahan na biyahe; at bawat MOVE IT rider na araw-araw binabagtas ang init ng araw at pagod sa traffic makapaghanapbuhay lamang."
The Shadow of Political Play and Market Manipulation
It has become apparent to observers that the field is being tilted. MOVE IT's efforts to push the envelope in providing exemplary service are being overshadowed by what appears to be a concerted effort to monopolize the market through political channels. The question on everyone's lips: Are politicians, in cahoots with rival MC Taxi firms who are failing to rise to the competitive challenge, conspiring to create a market of single-choice, single-standard service?
A concerned rider from MOVE IT aired his frustration over the repeated attacks on the platform. "Nakakapanghina minsan ng loob ang mga patutsada ng ibang nasa gobyerno. Ang gusto lang namin maghanap-buhay. Ang mga pasahero naman, gusto lang makabiyahe nang matiwasay. Ngayon may mga nagmumungkahe na i-ban si MOVE IT sa pilot study sa mga kadahilanang matagal naman nang nabigyang linaw. Ang tanong lang naman ay sino ba talaga ang nang-monopolyo? Itong mga akusasyon laban sa MOVE IT paukol sa monopolyo ay halata namang hindi totoo. Tatlo ang kasalukuyang player, paano 'yun naging monopolyo? Ito ay isang maling haka ng mga taong ang nais talaga ay sila ang nag monopolyo sa MC taxi, sila na "malakas" na tila mas magaling pa sa ating saligang batas."
This potential exclusion of MOVE IT from the MC Taxi pilot would not only stifle competition but cement a virtual monopoly that promises nothing more than stagnation and dissatisfaction for commuters and riders alike. The notion that the everyday passenger might be consigned to a future of deteriorating services under the guise of 'regulation compliance' is not just unacceptable—it's a betrayal of public trust.
The Veil of 'Violations': A Smokescreen for Incompetence?
As fines have been settled by Grab Philippines, and transparency has been a hallmark of MOVE IT, the so-called 'violations' appear to be a smokescreen—perhaps to distract from competitors' inability to provide satisfactory service or innovate.
The call for exclusivity of service seems less about public safety and more about protecting certain interests at the expense of public choice and quality.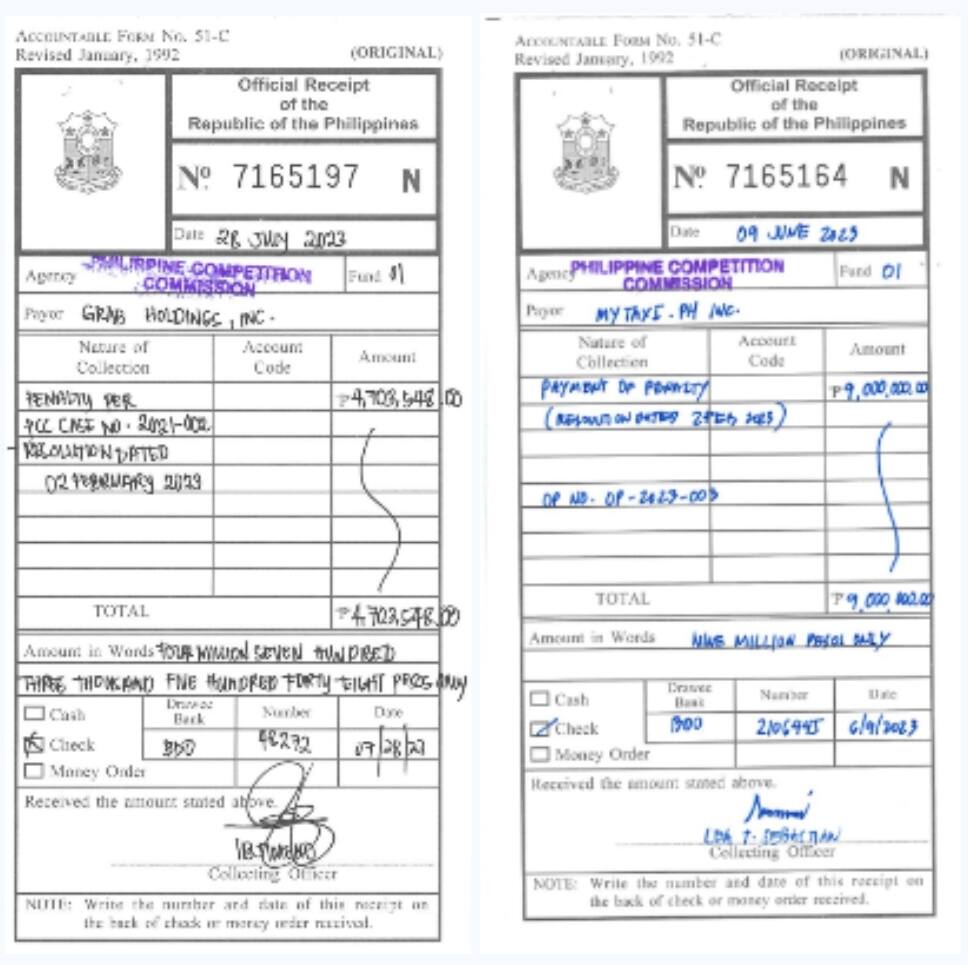 The receipts above document the payments made by Grab to the Philippine Competition Commission following the successful issuance of reimbursements to Grab users.
The stakes are high: the livelihoods of thousands of riders and the daily commute of millions are in jeopardy. With a failing tech and deteriorating service level offered by the two other MC Taxi players, it puts into question their ability to serve the public, but most importantly, it puts into question the mandate of lawmakers tilting the market to serve a few interests. Whose interests? One can only assume.
There is now a growing call to action: urging consumer groups, regulatory authorities, and the media to scrutinize these maneuvers that threaten to cripple an industry on the cusp of transformative growth.
The public demands more than just a ride—they demand the right to choose quality. We should call upon every stakeholder to take a stand against this regression into a 'monopoly of mediocrity.'