Toyota Motor Philippines (TMP) is welcoming this spooky season fearlessly with big deals and offers. Low monthly plans, trade-in rebates, and more deals are in store for you with TMP's special Halloween deals available on all Toyota dealerships nationwide, until October 31, 2023.
Bewitching deals just for you
Be enchanted with massive savings—as big as PHP 140,000.00 for Fortuner 4×4 LTD A/T 2T; PHP 120,000.00 for Hilux 4×2 E M/T; PHP 45,000.00 for Vios XLE CVT; and PHP 30,000.00 for Innova V A/T, G A/T and G M/T.Get more bewitching deals with Toyota's flexible payment options.
You can enjoy as low as 15% all-in cash out downpayment, with free 1st year insurance and 3-year LTO registration for any purchase of Vios 1.3 XE CVT, Wigo 1.0 G CVT or Corolla Altis 1.6 V CVT, Innova 2.8 E Dsl M/T, Fortuner 4×2 G M/T, or Hilux 4×2 E M/T with the Pay Low deal.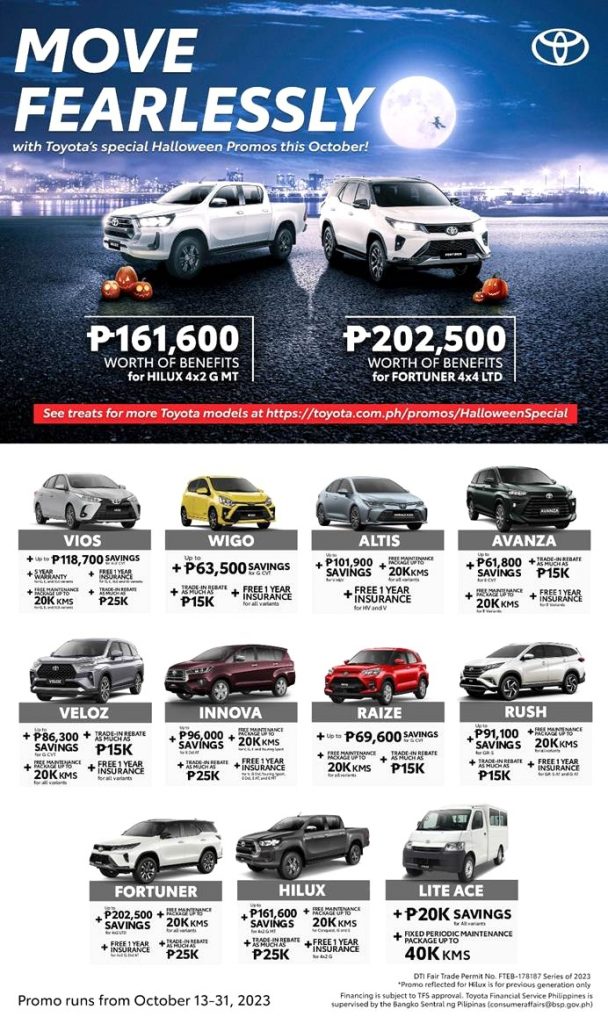 Meanwhile, with the Pay Light deal, you can enjoy low monthly payments when you purchase Vios 1.3 Base MT, Raize 1.2 E M/T, Yaris Cross 1.5 G CVT, Innova 2.8 J Dsl M/T, Fortuner 4×4 G M/T, and Hilux 4×2 E M/T. Move Fearlessly with Free PMS.
Spooky season or not, make sure your trips are safe and horror-free. Ensure the safety of your drive with regular checkup and maintenance of your vehicle. Grab Toyota's free Periodic Maintenance Service (PMS) offer of 5 PMS or up to the 20,000KM checkup.
This offer is available when you purchase Vios G, E and XLE; Innova V, G, E and Touring Sport; Hilux Conquest, G and E; Avanza E variants; and all variants of Corolla Altis, Raize, Veloz, Rush, and Fortuner.Lite Ace also joins these fearless offers with the Fixed Periodic Maintenance Package. You can get 9 Fixed Periodic Maintenance Service or up to 40,000KM, with a minimum payment of PHP 1,999.00 per service, when you purchase any Lite Ace variant.
No need to go trick-or-treating because Toyota only offers treats this Halloween season with trade-in rebates, warranty and free insurance.You can get minimum of PHP 15,000.00 rebate when you trade-in your Vios, Innova, Fortuner, or Hilux for either Rush, Raize, Veloz, Avanza or a new Fortuner or Hilux. Meanwhile, HEV owners who wish to trade-in their ride for a New Vios, Innova, All-New Wigo or Zenix Gas can get PHP 20,000.00 rebateThese Halloween spectacular treats are more than just deals and discounts. This October, you are entitled to Toyota Insure's 1-year Comprehensive Insurance when you purchase Hilux 4×2 G; Fortuner 4×2 G Dsl AT; Vios G, E, XLE and XE; Innova V, G Dsl, Touring Sport, and E Dsl; and for all variants of Wigo and Veloz.
This comprehensive insurance includes 24/7 Personal Accident Insurance, Passenger Auto Personal Accident Insurance, 3-Year CPTL, Own Damage (OD), Loss/Theft, Excess Bodily Injury (EBI), Property Damage, Acts of Nature (AON), and Emergency Roadside Assistance.You can also enjoy 5-year warranty when you purchase a brand-new Vios G, E or XLE.
Move fearlessly with these special Halloween promos when you visit the Toyota dealership near you. Promo runs until October 31, 2023.
Check our toyota.com.ph/promos/HalloweenSpecial to know which Halloween promo will work best for you.Promo reflected for Innova, Fortuner and Hilux are for previous generation only; per DTI Fair Trade Permit No. FTEB-178187 Series of 2023.
Follow Toyota Motor Philippines on Facebook and Instagram, ToyotaMotorPH on Twitter, join the Viber community at ToyotaPH to get the latest news and updates. Download MyToyota App for all your Toyota needs.